Stepan Rak - světový kytarový virtuos.
Stepan Rak - světový kytarový virtuos, skladatel, profesor pražské Akademie muzických umění.

---
Guitarotherapy - Stepan Rak
Guitarotherapy – Stepan Rak evokes a stone's soul with the strings of his guitar ...

Štěpán Rak has been inspired many times in his life by various spiritual mentors. However, it was Profesor Štěpán Urban (1913-1974), whom he met while studying at the Prague conservatory, who become one of his most inspiring influences. Under Prof. Urban's perpetual care, Rak carried on in the Steiner tradition, and with music in his heart, has continued on in his own legacy, upon which he passes on the wise and mysterious, the beautiful and yet unknown ...

Hence, it was by no accident that on his journey he should cross paths with an enthusiast the likes of himself. Jan Řeřicha – sculptor, stonemason meet Štěpán Rak – guitarist, musician. Thanks to this unlikely collaboration an extraordinary invention was born – the marble guitar. The former giving the stone its'shape and style, the latter warmed the instrument and breathed life into it.

Like the turnkey to a complicated lock, Rak opens doors to the mysterious music of the rock's world. For many millions of years, the shaped substance resonated with the sound of the heart of Mother Earth, herself. Now, for the first time, she issues her first tones and fills us with an energy yet unknown to us. The master's right hand awakens her fragile, stone soul and enables her to fully unveil her hidden beauty and harmony.

The healing energy emanating from stone has been well-known for ages and gained the respect of our ancestors. Today, the time has come for this strength to awaken in her intimate likeness and amaze us with her beautiful tones.


MARBLE GUITAR, creator: JAN ŘEŘICHA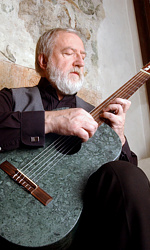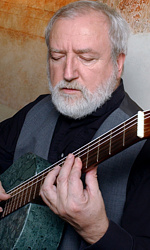 Prof. Štěpán Rak and his Guitar Department at the Music and Dance Faculty of the Academy of Performing Arts in Prague, were given a marble guitar, a one-of-its kind instrument. Jan Řeřicha, creator of this unique work of art, wanted to make sure it was received by the most professional of artists. This very guitar has been presented at several of Štěpán Rak's concerts.

The Spanish, solid rock guitar is made from Verde Guatemala marble and took 3 months to create. The guitar's frame is made up of 5 stone rings that are all held together by stone cement. The lower sound board is made from 2 pieces of the green marble, the sound hole of eight parts 2mm in thickness supported stone. The entire guitar was created from Verde Guatemala marble, a geologically type of stone similar to Serpentinite. The neck and bridge, of course, are made from wood.

Thanks to which the instrument is playable and portable. As the proportions of a standard acoustic guitar were maintained, it fits into almost any guitar case. The instrument gives off a relatively good, loud sound full of color and resonance.

This instrument remains a one-of-a-kind creation that resonates with the sound of stone. You can even hear how special this guitar is and plays when being tuned.